The Elliott Wave Principle
The

Elliott Wave Principle

was published in the 1970s by Frost and Prechter but

The Wave Principle

was originally developed in the 1930s by Ralph Nelson Elliott who had the view that



'Because, man is subject to rhythmical procedure, calculations having to do with his activities can be projected far into the future with a justification and certainty heretofore unattainable.'

A respected accountant, RN Elliott suffered from periods of ill health and at a time of historical stock market activity, spent much of his time studying the movements of the financial markets to occupy his mind. He observed that the markets often appeared to move in repetitive and recognisable patterns.



Elliott Wave Principle, Now Available Free
Robert Prechter has just released a complimentary online edition of Elliott Wave Principle: Key to Market Behavior. All 248-pages of this classic investment book can be on your screen in just minutes.

Elliott Wave Principle will teach you the 13 waves that can occur in the charts of the financial markets, the basics of counting waves, and the simple rules and guidelines that will help you to apply EW for yourself. You'll learn the method of analysis that successful investors have been using for decades.


R.N. Elliott studied the charts of a number of stock market indexes spanning 75 years at various degrees of time, from Yearly down to 30 mins. What he discovered was that these patterns were repetitive and took the form of interlinking

waves

. These waves then went on to develop into larger waves within similar patterns. Elliott noted that'What appears random and unrelated, will actually trace out a recognizable pattern once you learn what to look for.'

What Elliott then set out to describe using the Elliott Wave theory was how the market actually behaves. There are a number of specific variations on the underlying pattern, which Elliott meticulously described and illustrated. He also noted the important fact that each pattern has identifiable requirements as well as tendencies.


From these observations, he was able to formulate numerous rules and guidelines for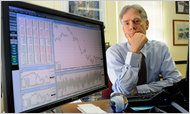 correct wave identification. A thorough knowledge of such details is necessary to understand what the markets can do, and at least as important, what it does not do.

Elliott's work remained relatively unknown until the 1970s when

A.J. Frost

and

Robert Prechter Jr

. published the

Elliott Wave Principle

which is now widely regarded as the definitive guide to Elliott Waves.

It has since become one of the most popular and commonly used financial technical analysis indicators used today.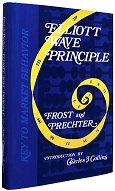 This

technical analysis best seller

from Frost and Robert Prechter

is essential reading for anyone who is serious about using technical analysis of the financial markets. It is the

wavers

guide book,' and it may well turn out be the best $29 you ever spent. One good trade on the back of it is going to net you a lot more than that so we think it is a very good investment to have a copy.



Get The Elliott Wave Principle direct from Elliott Wave International to ensure you get the latest edition of Robert Prechters Best Seller.




The Elliott Wave Principle
Following the publication of the

Elliott Wave Principle

, Robert Prechter Jr. then went on to create the world's largest stock market forecasting service, Elliott Wave International (EWI).

EWI's team of analysts provide forecasts for every major market in the world and through their free to join, Club EWI membership, offer an impressive range of very good quality educational materials such as tutorials, videos, special reports, webinars...etc.







EWI, have an extremely useful

EW tutorial

available for free online. It's broken up into 10 lessons across 50 pages, so it's easy to read and review at your leisure. These lessons cover the subject in more detail Learn more about the Elliott Wave Principle and how to access the free Tutorials.