ShareScope and SharePad Review
ShareScope (a trademark of London based Ionic information) is a fully customizable trading and investment analysis and portfolio management software which comes complete with an extensive range of fundamental and technical analysis functions along with deep data mining capabilities. This is a very affordable, award winning subscription based software package which also comes complete with data feed from multiple exchanges covering a huge range of assets at no extra cost. For most private investors the end of day (EOD) entry subscription level will more than meet their requirements and is priced at a little over £18 per month with an anual subscription.
SharePad can be used on iPads, Macs and PCs ShareScope is for use in Windows PCs only. There is more financial data available in SharePad but technical traders will find a wider selection of charting tools in ShareScope.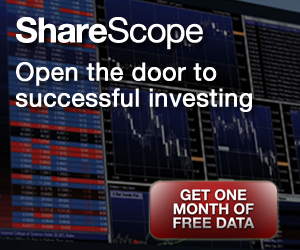 What You Will Learn
Getting Started with Gold (63 min)
Getting Started with Plus and Pro (38 min)
Getting Started with SharePad

Successful financial market participants have time and again proven their ability to monitor and churn their investment portfolio at the right time. However, it is not as daunting a task as one may believe when you have access to the right tools and up-to-date, accurate information.
This is why the proper selection and use of a good portfolio management, charting and data analysis software package can be so important and can save you hours of wasted time spent trawling through the web trying to research the market that you are interested in. Even then, the information you find may not be quite as accurate as the way it is presented to you might indicate.
Click here now to claim one month free ShareScope or SharePad subscription (worth up to £99)
ShareScope Award Winning Software
Shares Magazine

: Best Investment Software 2002 - 2015 (fourteen years running!)

MoneyWeek

: Best Investment Software Provider 2014

Investors Chronicle

: Best Investment Data Provider 2014 - 2015, Best Investment Software 2002 - 2014 (twelve awards!), Best level 2 Data Provider 2008
How ShareScope Can Help Transform Your Trading Video
Once an investor gets accustomed to the capabilities of the ShareScope software functions, data analysis becomes a routine and fairly quick and simple task. Here is an overview of some of the key functions but the YouTube video below also offers a very good introduction in order to quickly understand some of the key features of the software:
ShareScope Key Features
The layout is fully customisable with a huge choice of settings and functions available but for ease of use, by default the software is organized into several screens based on the nature of assistance they offer to stock analysis.


For example, lets take a look at some of the default layout screens such as:
List
Details
Graph
Directors' details
News
List screen
By default the List screen shows all the assets (UK and US stocks, futures, indices, forex, select commodities, ADRs, GDRs, Unit Trusts, ETFs, bonds, gilts and warrants) supported by the ShareScope software. However, short-cut keys are available to select a particular List screen of choice (for e.g. FTSE 100, FTSE 250 or Indices).
The prominent feature is that an investor can add his own data to a particular List screen through the import data facility. Additionally, a portfolio can be constructed (right-click mouse to open menu) in a matter of minutes using the assets in a List screen. Similarly, columns (more than 60 different kinds of data including earnings calendar, price ratios, rank & historic prices) can be inter-changed, added, modified or deleted as required.
User are also offered the ability to create a column to add any notes or trading data (automatic inclusion of average buying/selling price). It is a feature which investors should find quite useful.
When the mouse is moved over price ratios (EPS, EPS growth, PEG, P/E, profits, turnover, dividend and yield) in the List screen, a pop graph showing the historic performance is displayed. It simplifies fundamental analysis process since an investor can quickly view the graph to decide whether a detailed study is required. Even the pop-up graphs can be customized.

Fig 1: ShareScope Trading and Investment Software: Example Layout
Details screen
The Details screen can be considered to be a core feature of the ShareScope software package. The screen provides a detailed graphical analysis of a selected company's performance, forecasts, financial stability and sector ranking. Similar to other screens, the data functions included in layout of the Details screen can be totally customized including the appearance,according to the needs and preferences of the individual investor.
The package also provides a number of pre-configured settings, which will be useful for a beginner. From a professional's point of view, the Details screen allows any number of tables and price/result graphs to be added.
Directors' dealings screen
By pressing the full stop (.) button on the keyboard, an investor can quickly look at the current holdings of management in the Directors' dealings screen. It is a useful function to understand the management's perception about the company.
A search can be conducted even based on the name of an investor (US investors may be very interested to know what inverstors like Carl Icahn and Waren Buffet are currently buying or selling).
Graph screen for making precise buy/sell decisions
The ShareScope software primarily offers 12 different kinds of graph settings, which permits a user to quickly move between different kinds of display settings.
Additionally, the screen layout can also be used to simultaneously view multiple graphs in order to monitor different indicators, multiple assets, or varying time frames, along with the main graph. This feature allows an investor to study the correlation, if any, between two or more different assets or to pinpoint precise trading opportunities based on price action over several timefarmes.
This charting facility can be used to chart a single share or even an entire portfolio collectively (based on weighted capitalization). Most investors would like to extend trend lines and indicators into the future to identify the probable direction of price movement. This can be done through applying the 'show future' settings.
Additionally, investors would like to check the exact price point in the graph where they have entered a trade. This is usually done during performance analysis. The 'Events' menu facility can be used to display several important transactions including the buy/sell trades.
There is also a slide show feature to display graphs one after another. This roll-over facility is generally required for traders who wish to scan a large number of securities visually.
The charting facility also has a feature to view unadjusted (before split, rights issues etc.) share prices. It is a welcome feature to those investors who are concerned about the valuation of a security after a stock split.
News alerts screen to keep ahead of crowd
Similar to a list screen, the news screen is totally customizable. By using the forward slash (\) key, the news corresponding to a particular share data being viewed on screen can be accessed instantly, without having to trawl through the internet 24/7. Additionally, there is also a facility to delete or save the news for studying in more detail at a more convenient time.
A single word or sophisticated news search facility is also available thereby enabling an investor to easily filter the news as and when required. The ShareScope subscription includes live a news feed from Dow Jones news wire.
Massive portfolio creation facility
Create and maintain a mind-boggling 1000 portfolios with an unlimited number of markets in each of them. By default a new portfolio is created (by pressing F12) in Sterling but this can be converted to any currency. If an investor has several portfolios then each one of them can be assigned a number and a button corresponding to it can be added to the tool bar. This facility enables moving from one portfolio to another quickly.
Moreover, this software allows copying a share from one portfolio to another. If necessary, an entire portfolio can be copied and renamed. Additionally, group portfolios (selection of several portfolios) can be created and edited, if necessary. If an investor has specific criteria for a portfolio then a dynamic portfolio can be created using filters. If that is not enough, an investor can even track the cash balance of each portfolio very precisely using the portfolio valuation box.
This facility would be quite helpful to investors and traders who churn their portfolio often or are perhaps testing different strategies in separate portfolios. The appearance of the portfolio and the columns it contains can be modified as per the individuals' likes and dislikes.
The ShareScope software package also provides a capital gains tax calculator for easy management of tax related issues.
Enables quick search
An investor can quickly search for an asset, irrespective of the screen (List / Detail / Graph / News) being watched. When the first few letters of a stock is typed, a dialog box with the list name (default is ALL) at its top will open for the investor to pick the stock. Alternatively, the search can be further quickened by directly typing the EPIC code (EPIC code search to be enabled) of the asset.
One of the most attractive features of this facility is that a search can be done (by disabling the start from first letter or use EPIC codes) even when an investor is not sure about the first few letters of the ticker name or the EPIC code.
No additional charges with an inclusive data feed
It is quite normal to see traders paying separately for the data feed to be used in conjunction with their charting and analysis software packages. However, it is not so in the case of a ShareScope subscription. The ShareScope package, as discussed earlier, offers EOD, delayed or real-time data feed (based on the level of subscription) for a diversified range of markets (US/UK stocks, futures, indices, forex, Unit Trusts, Investment Trusts, Gilts, Warrants, ETFs, Corporate bonds and selected commodities).
The all inclusive subscription covers the cost of data feed as well. For a subscriber, the result is not only savings in cost but also in the time involved in sorting out issues related to synchronization of external data feed and the charting software.
Work offline
Another key advantage when using the ShareScope software is that internet connectivity is required only to download (update) data. Users can then perform their analysis offline as the requisite data is stored in the end user's computer system and not in a server situated elsewhere.
Powerful data mining facility
The software arguably offers one of the most impressive and intuitive data mining (fundamental analysis) features available. An investor can easily scan through thousands of equities to find the ones that match adjustable filters. As many or as few of the available filters can be applied in the search process.
For example, an investor can create a filter to identify stocks with the following parameters: At least 10% growth rate in EPS in the past 3 yrs. Similar growth forecast in EPS. A minimum of 12% growth in revenue. A quick ratio of at least 1%. An operating margin of at least 12%.
It is almost impossible to accomplish the above mentioned task manually even if there are only 100 stocks left for analysis.
Automate your analysis
Sharescope has in-built programming language named ShareScript. This facility enables an investor to develop and perform customized analysis systems with the option to also urther use the results in columns, indicators or data mining criteria. There is also a ShareScript library, which not only includes scripts offered by the company but also those created by other users of the software. One of my favourites is the fantacstic Market Matrix Cycles add-on.
Subscribers can download ShareScript files for further use in ShareScope. Investors who are adept in programming regularly contribute to the library thereby opening up access to possibilities of benefiting from new data analysis systems.
Set stock alert alarms easily
The package allows an investor to set stock alert alarms for individual shares or globally. The notable feature is the possibility to set an alert based on news items as well as from technical or price breakouts. Customised alarms can be created using the ShareScript language.
Fully customizable
Acknowledging the fact that no two investors needs are the same, almost all aspects of different screens mentioned can be fully customized to suit individual needs or preferences. A context menu, which allows customization, can be opened for any screen by simply right-clicking the mouse pointer placed over it.
The software so so jam packed full of functions it is very easy to forget some of the things that you can do with it so the tip of the day feature is a very useful tool, when enabled it will give reminders to an investor about ShareScope's special features.
By using the options box, the features in the ShareScope can be selected or deselected by the user.
Easy import/export of data
The facility allows easy import/export of data from other applications. The imported data can also be edited if necessary. Similarly, the data can be exported in four different formats (Excel, Metastock, Quicken and general). The advantage of this facility is that ShareScope members can even export their data mining filters to share with others. Those traders who wish to pass the data to some other program (excel sheet for example) on a real-time basis, for further analysis, can use the DDE (dynamic data exchange) facility.
Backup facility
There may be situations where a trader would like to recover their data following a major computer crash or install ShareScope into a new computer system. The backup and restore facility menu allows a trader to very easily achieve this task without the need to re-enter all of their trade (imported data, portfolios or custom settings) related details into the new computer.
Training mode
Training mode is another incredible feature of ShareScope software package. Training mode enables a trader or investor to easily test his analytical skills in predicting future prices. It is a must try facility for beginners who are new entrants into financial markets and also for developing and testing new strategies.
Built-in email & discussion forums
To facilitate communication between members, ShareScope offers built-in email and web-based discussion forums. Experienced traders share their investment strategies and offer free suggestions to fellow traders and investors.
The company also offers its support through the discussion forums.
Market Matrix Cycles add-on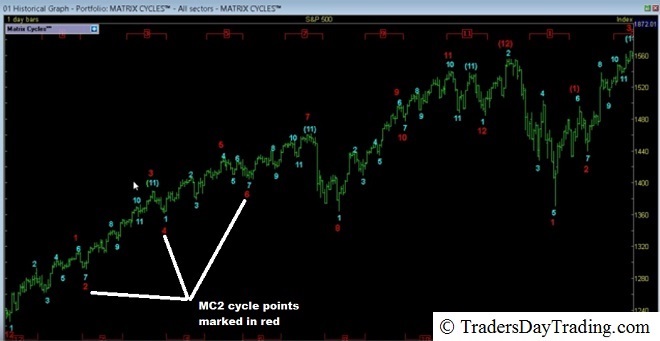 Fig 2: The Market Matrix cycles plotted using the Matrix Cycles add-on for Sharescope
The Market Matrix Cycles add-on is a highly dependable time cycles based tool when it comes to prediction of future price direction of stocks, commodities and even currencies. The software enables a trader to identify probable trend reversals beforehand thereby giving an early entry advantage.
The script can be seamlessly integrated into either the ShareScope Plus or Pro packages through the add-on feature. Click here to learn more about the Market Matrix Cycles add-on for ShareScope.
Learn How to Use ShareScope and SharePad Videos
You can watch the introduction videos below to learn the basics of what you need to know in order to get you started with ShareScope Gold, Plus and Pro. Find out how the software can quickly help you to become a more successful trader or investor :
Getting the Best from ShareScope Gold (63 min)
Getting Started with ShareScope Plus and Pro (38 min)
Getting Started with SharePad
Subscription Levels
SharePad and ShareScope subscription is offered in 5 variants to suit individual requirements and budgets. SharePad can be used on iPads, Macs and PCs whereas ShareScope is for Windows PCs only. Investors will find more financial data in SharePad; traders will find more charting tools in ShareScope. For most private investors the end of day (EOD) entry subscription level will more than meet their requirements and is priced at a little over £18 per month with an anual subscription. Short term and intraday traders have the choice between Plus and Pro.
Click here now to claim one month free ShareScope or SharePad subscription (worth up to £99)
ShareScope Gold

: ShareScope Gold can be considered as the basic version of the software catering to passive investors who need an acurate and reliable end-of-day (EOD) data feed to make their buy or sell decisions. The live LSE level 2 data is available as an add-on feature. Although a more limited selection than Plus or Pro, all the most popular indicators are available here for technical analysis and is inclusive of a screening facility. This subscription has single window capability.

ShareScope Plus

: ShareScope Plus is suitable for those investors who more actively churn their portfolio whenever there is a new investment opportunity. This subscription level allows an investor to perform a very detailed analysis of the markets. The fundamental difference between the Gold and Plus subscription is that market data, barring commodities, is provided with a 15-minute delay vs end of day. Thus, an investor need not wait till the end of the day to make a buy or sell decision. With multi-window capability, more than a single application can be run at the same time. Plus Subscribers can also perform detailed filtering of stocks based on technicals. Additionally, email and unscheduled auction alerts on specific stocks can be set as well. The Plus subscription enables the ability export trade data as well.

ShareScope Pro

: As it can be understood from the name, the ShareScope Pro subscription is suitable for short term intraday and professional traders who wish to execute day trades whenever the opportunity presents itself in addition to swing trading or investing. The highlight of this subscription is the availability of a range of live data feeds (including level 1 and level 2 quotes of LSE) for the all the assets (including commodities).

SharePad

: The service can be run without downloading any kind of software as in the case of ShareScope subscription. Being mobile responsive, this web-based service can be run on any tablet without difficulty. Even users of Mac will be able to use the service without any boot camp partition. Being a split-screen utility, an investor can comfortably go through the fundamental data (dividend history, return, ranking and key ratios) and view chart at the same time. This allows an investor to perform in-depth analysis and make error-free decisions. Only the most needed indicators are provided thereby avoiding a clumsy look. The price quotes of assets are delayed by 15-min in SharePad subscription. The subscribers of ShareScope can import data into SharePad using the portfolio tracking tool. All details regarding a fund (ISA/SIPP) can be accessed instantaneously in a single screen thereby saving valuable time which would have been otherwise spent on searching fund fact sheets.

SharePad Pro

: The most important difference between the SharePad and SharePad Pro service is the real-time data feed (including LSE level 1 and level 2) offered for the latter subscription. Apart from the facilities provided in the SharePad service, subscribers of SharePad Pro will also receive Dow Jones trader headlines – an indispensable tool to make quick and informed decisions.
The ShareScope subscription is certainly a must for those who have a long-term view about investments in financial markets. There is not even an iota of doubt that within the trial period, a user will understand the tremendous value for money offered by the package.
Click here now to claim one month free ShareScope or SharePad subscription (worth up to £99)